Berries Hamper

Sale
Regular price

Rs. 1,399.00

Unearth the Treasures of Kashmir Valley 

Unveil the rich and flavorful bounty of Kashmir with our exquisite gift hamper, thoughtfully curated from the pristine berry farms nestled in the heart of the Kashmir Valley. This exceptional collection is a true celebration of nature's finest offerings, combining the different Dried berries like sweet Blueberries, luscious Blackberries, tangy Cranberries, fragrant Roseberries, and succulent Strawberries. Each bite is a journey through the orchards and fields of Kashmir, bringing you the freshest and most delectable berries the region has to offer.

Benefits of Kashmiri Berries

Exceptional Taste: Experience a burst of natural flavors with every bite. The Dried Blueberries add a sweet and tangy touch, the Blackberries provide a deep, earthy richness, Cranberries offer a delightful tartness, Roseberries bring a hint of floral sweetness, and the Strawberries infuse a classic, mouthwatering berry taste. Together, they create a symphony of flavors that tantalize the taste buds.

Healthful Delights: Beyond their extraordinary taste, Kashmiri berries are renowned for their numerous health benefits. Packed with antioxidants, vitamins, and minerals, they are a nutritious addition to your daily diet. Berries are known to boost your immune system, improve heart health, enhance skin complexion, and aid digestion. Plus, they're a guilt-free snack that's low in calories.

Natural Energy Boost: Whether you're on a hike, at work, or simply need an energy pick-me-up, these berries provide a natural burst of vitality. Their high fiber content keeps you feeling full and energized throughout the day.

Versatile Usage: Elevate your culinary creations with these exquisite berries. They can be enjoyed as a snack on their own, added to cereals, yogurt, or smoothie bowls, and used as a gourmet ingredient in salads, desserts, or even as a garnish for savory dishes.

Sustainably Sourced from Kashmir

Our commitment to sustainability is at the core of our products. These luscious berries are harvested from the lush, eco-friendly farms of Kashmir, where traditional farming practices and responsible land stewardship are paramount. By choosing our Kashmir Berry Farm Gift Hamper, you're not only treating yourself to an exceptional taste experience but also supporting the preservation of this unique and precious ecosystem.

With each bite, you savor the essence of the Kashmir Valley and contribute to the sustainability of its natural beauty.

Gift the Essence of Kashmir

Whether you're looking for the perfect gift for a loved one or a delightful treat for yourself, the Pristine Kashmir Berry Farm Gift Hamper is a thoughtful choice. It's a luxurious journey through taste and tradition, a box filled with the finest flavors of Kashmir, and a testament to our commitment to both your well-being and the environment.

Indulge in the elegance of Kashmir with this extraordinary berry collection. Order now and relish the richness of nature's gifts in every bite!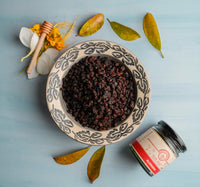 Berries Hamper
Rs. 1,399.00